MUSICAL TRADITIONS
SILKIE FOLKLORE
By Stewart Hendrickson
"It all started long ago when the cottages on Ron Mor were newly built, five or six there must have been then, right down on the shore of the only bay on the island, and a family living in each. They were fisherfolk for the most part, living on what they could get from the sea and the scanty crops they managed to raise on the thin soil of the island. Their life was hard, but not too hard for them to take an interest in one another's affairs. So it was odd that nobody ever discovered for certain where young Ian McConville really found his wife." So begins "The Secret of Ron Mor Skerry" by Rosalie K. Fry (© 1957). This is a silkie story originally set in Scoyland, and later made into the movie "The Secret of Roan Inish," which was set in Ireland.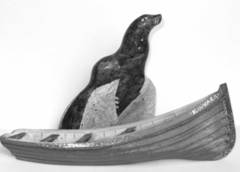 The seal-folk of Norse and Celtic folklore, variously called selchies, selkies, silkies, or roanes, are seals at sea, but take human form on land after they shed their seal skins. Their magical skins allow them to return to the sea as seals again. In the classic silkie story a man meets a strange, but beautiful woman by the sea. She is a silkie or seal woman. The man steals her sealskin so she can no longer return to the sea. They marry and have a son. Later she asks the man to return her sealskin. He becomes angry and refuses. Later the child is mysteriously summoned by an ocean spirit to where the sealskin is hidden. He returns it to his mother and they both disappear into the sea.
There are many variations of this story in Celtic and Norse folklore. The silkie can also be a man who seduces a young woman who has a child by him after he mysteriously disappears. He then reappears after seven years to claim his child and they both return to the sea.
The most familiar silkie story is the ballad "The Great Silkie of Sule Skerry." The original version comes from the Orkney Islands north of Scotland. Sule Skerry is a small uninhabited rocky island in the west Orkneys. A silkie from there has a liaison with a maiden in Norway. She has a son by him, but he  mysteriously disappears. After seven years he returns to claim his son, and they both return to the sea. The woman then marries a hunter who unknowingly kills two seals, his wife's former lover and her child.
In Norway land there liv'd a maid, "hush ba loo lil-lie" this maid began,
"I know not where my bairn's father is, whether land or sea he travels in."
It happened on a certain day,when this fair lady fell fast asleep,
That in there came a grey Silkie and set him down at her bed's feet.
"Awake, awake, my pretty fair maid, for oh how soundly thou dost sleep
I'll tell thee where thy bairn's father is, he's a-sitting close at thy bed's feet."
"I am a man upon the land; I am a Silkie in the sea,
And when I'm far from ev'ry strand, my dwelling is in Sule Skerry."
"Alas, alas, this woeful fate, that weary fate that's been laid on me,
That a man should come from the Wast o' Hoy and that he should have a bairn with me."
"O thou wilt nurse my little wee son for seven long years upon thy knee,
And at the end of seven long years I'll come back and pay thy nursing fee."
"I'll put a gold chain around his neck, and a gay good gold chain it will be,
That if e'er he comes to the Norway lands thou may have a gay good guess on he."
"And thou wilt get a gunner good, and a gay good gunner it will be,
And he shall gae out on a May morning and shoot thy son and the grey Silkie."
Oh she has got a gunner good, and a gay good gunner it was he,
And he gae'd out on a May morning and he shot the son and the grey Silkie.
"Alas, alas, this woeful fate, this weary fate that's been laid on me!"
And once or twice she sobb'd and sigh'd, and her tender heart did break in three.
The original tune for this song was nearly lost, but was noted down in 1938 by Dr. Otto Anderson, who heard it sung by John Sinclair on the island of Flotta, Orkney. He said, "I had no idea at the time that I was the first person to write down the tune. The pure pentatonic form of it and the beautiful melodic line showed me that it was a very ancient melody that I had set on paper."

You may recall another tune with slightly different lyrics sung by Joan Baez, but I prefer this version. My friend Paddy Graber has a similar Irish version of this song on his CD, "The Craic was Great," with the same tune, but in that version the maid lives in Donegal rather than Norway.
It is said in Ireland that seals are fond of music and can sing. A good singer can coax them ashore. Various songs are sung to attract seals. Paddy Graber also sings the "Song of the Sea Maidens" on his CD. This song uses a tune to attract seals, similar to one said to be used by the seals.
More recently Bill Gallaher, of Victoria, B. C., wrote a beautiful and haunting silkie song, "Mary and the Seal" (on his CD "The Last Battle" © 1995). It tells a sad tale about a Scottish fisherman and his daughter, a silkie, who leaves him to join the seal folk. This was inspired by a story by Duncan Williamson – a folk tale from Scotland – Mary and the Seal.
Then there is a song "The Silkie and the Fause Mermaid" about a young woman in Norway who poses as a mermaid (inspired by the Little Mermaid statue in Copenhagen – "Oslo,Norway. Reuters,  June 30, 2000. - A bare-breasted blonde mermaid perched atop a rock is making tourists gape in disbelief along a Norwegian fjord" ) and encounters a silkie.
Gray Atlantic seals have haunting human-like eyes, and their voices mimic human sounds of grief and loneliness. It is not surprising then that this folklore has evolved around them. But there may be other reasons for these stories.
These stories may be used to explain why a woman might leave her husband ("She was quite unlike the island women and some of her ways were so strange. Why, she'd go out on the rocks when the tide was low to talk to the seabirds and seals." – "The Secret of Ron Mor Skerry," Rosalie K. Fry), or why a man might leave his family. These people of the sea were always different, and came and disappeared in mysterious ways. 
Silkie Lore "The Secret of Roan Inish"
"The People of the Sea – A Journey in Search of the Seal Legend" by David Thomson (New Edition with introduction by Seamus Heaney. Washington, D.C., Counterpoint, 2000) is a wonderful collection of silkie stories from Scotland and Ireland. I have the Orkney version of the "Great Silkie of Sule Skerrie" and links to other silkie sites here. There is also an interesting collection of folklore about The Silkie Folk on the Orkneyjar web site.
Stewart Hendrickson is Chemistry Professor Emeritus – St. Olaf College, Research Professor Emeritus  University of Washington, and in his new career, an unemployed folk musician (voice, fiddle, guitar; stewarthendrickson.com). Reprinted from The Victory Review, July, 2005.