photo by Anita LaFranchi
| | | |
| --- | --- | --- |
|   | I play fiddle and sing traditional songs, unaccompanied or with guitar or ukulele. I play in Irish sessions, perform at local open mics, and have  performed at the Northwest Folklife Festival and other venues in Seattle. Here (right) I am on the east end of Tory Island, off the Northwest coast of Co. Donegal, Ireland in May, 2001. |   |

The Road Goes Ever On - a song cycle performed
at Carleton College, Northfield, MN, Feb. 7, 1972.

My musical education began with piano lessons at age 7 and classical violin at 8. During high school I gave up violin, bought my first guitar and began to sing. I studied voice (with Jean Pilon) at Pomona College and (with James Bailey) at the University of Illinois while majoring in Chemistry. I taught Chemistry at St. Olaf College (Minnesota) for 28 years and was active in the Northfield Arts Guild, singing lead roles in summer musicals and opera workshops. I moved to Seattle in 1996 as research professor at the University of Washington, and picked up the violin again to become a fiddler. I later retired to begin a new career as an unemployed folk musician (something I can now afford!).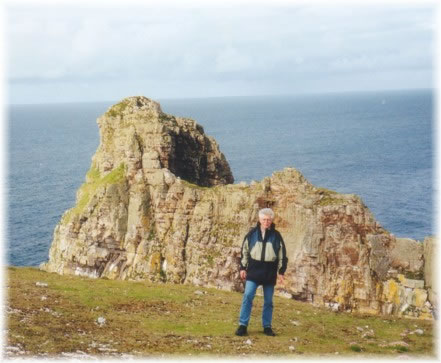 With Victory Music I helped set up open mics and an acoustic music venue in north Seattle, and wrote a monthly column, "Musical Traditions," for the Victory Review. I produced a concert series for the Haller Lake Arts Council from 2006-2011. In 2007 I helped revive the Pacific Northwest Folklore Society and am its co-director. I have produced CDs: "Paddy Graber – The Craic Was Great" (2004), songs by an Irish traditional singer and story teller from Vancouver, B.C.; "Songs of the Pacific Northwest" (2005), original and traditional songs of the Pacific Northwest sung by various regional musicians; and my own CD, "Erin's Green Shore" (2007).